Vladimir Putin has signed decrees paving the way for the formal annexation of the occupied Ukrainian territories of Kherson and Zaporizhia to Russia.
On Friday, the Russian president is expected to sign off on the annexations of four Ukrainian regions — Kherson, Zaporizhia, Donetsk and Luhansk — where Russia has held fake referendums over the past week to claim a mandate for the territorial claims.
According to the decrees published by the Kremlin on Thursday evening, Putin recognized Kherson and Zaporizhia as independent regions. This is an interim step needed before Putin can proceed with plans to unilaterally declare they are part of Russia on Friday.
In February, Putin recognized the independence of the self-proclaimed republics of Donetsk and Luhansk.
The plan to sign deals to annex territories in occupied Ukraine on Friday will mark a major escalation in Russia's seven-month-old war. Putin has said he is ready to defend these areas by any means available and has indicated that he would be ready to resort to a nuclear strike to stave off Ukraine's efforts to liberate its sovereign territory.
Putin is believed to be crossing a point of no return that will prolong the war and destroy even the slightest chance of negotiations by obliging Russia to fight forever for Ukrainian territory, some of which it currently does not control.
Volodymyr Zelenskyy said Russia would join a "disaster" and vowed Moscow would not get any new territory. "We know how to respond to Russian actions," Ukraine's president said on messaging app Telegram.
Russian government spokesman Dmitry Peskov said the signing of the "treats on accession of territories to the Russian Federation" will take place at 3:00 p.m. local time in the St. George's Hall of the Kremlin. Putin would make a "big" speech at the ceremony.
The announcement sparked a fresh round of international condemnation. "Any decision to proceed with the annexation of Ukraine's Donetsk, Luhansk, Kherson and Zaporizhia regions would have no legal value and deserve to be condemned," UN Secretary-General António Guterres told reporters.
Joe Biden said the US would never recognize Russia's claims to Ukraine's territory and denounced the fake referendums as "an absolute hoax," saying "the results were fabricated in Moscow."
"Putin is raising the stakes," said Tatiana Stanovaya, political scientist and founder of R.Politik. "It is proof that Russia is unwilling to negotiate, unwilling to make concessions and ready to use any means at its disposal to achieve its strategic goals. Including nuclear weapons. The Russian leadership said so directly without hesitation."
The areas have not been officially named, but Kremlin pool correspondents said four treaties would be signed, corresponding to the four regions Russia plans to annex.
Putin is expected to address members of the State Duma, the lower house of Russia's parliament, at the ceremony. By law, the Russian Federation Council must approve the treaties before Putin signs them, but it was not clear when the council would meet.
Moscow officials have also started preparing a venue for a big concert near Red Square on Friday night. "Together forever" is written on a large banner hanging over a stage, which also bears the names of the four Ukrainian regions. The state television stations are also showing a countdown to the event on Friday in the Kremlin.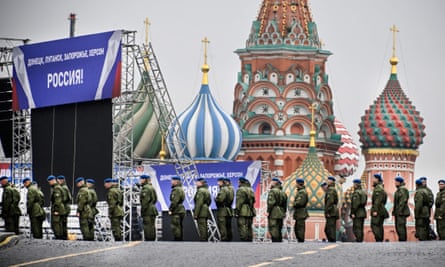 Putin's decision was believed to be an attempt to stop a Ukrainian counterattack that has forced Russia to withdraw from much of the Kharkiv region and is now threatening to retake more territory in Donetsk. He hopes the threat of all-out war and nuclear retaliation will reduce Western support for the Ukrainian offensive.
Ukraine and its supporters have described Putin's threats as "nuclear blackmail". In a speech earlier this week, Ukrainian President Volodymyr Zelenskyy pledged to defend and liberate Ukrainians in the occupied territories.
"This farce in the occupied territories cannot even be called an imitation of referendums," Zelenskyy said in a video published on Telegram on Tuesday. "We will act to protect our people: both in the Kherson region, in the Zaporizhia region, in the Donbass, in the currently occupied areas of the Kharkiv region, and in Crimea."
The Presidential Office of Ukraine said that Zelenskyy spoke with his Polish counterpart Andrzej Duda on Thursday about the international reaction to Russia's illegal referendums. "We have discussed concrete steps and measures that we will work on in this regard, military and defense cooperation," Zelenskyy wrote on Telegram.
The two leaders "agreed on the need for a powerful, consolidated global response to the Russian Federation's illegal actions that are destroying the foundations of international law," according to the statement from Zelenskyy's office. "Concrete steps and measures that the parties will develop in this context have been discussed."
Zelenskyy also had a phone call with outgoing Italian Prime Minister Mario Draghi on Thursday afternoon. According to Zelenskyy's office, the main topic of their discussion was the need for a firm response to the rigged referendums.
"They are worthless and do not change reality. The territorial integrity of Ukraine will be restored. And our reaction to Russia's recognition of the results will be very harsh," Zelenskyy said, according to his office's statement.
Zelenskyi also said he would convene an "urgent" meeting of the National Security Council on Friday, details of which will be announced later.
The Kremlin does not have full control over many of the areas it wants to annex. It is likely that it will claim all four Ukrainian regions in their entirety, including several medium-sized cities not under Russian control. In the Zaporizhia region, for example, local occupation officials claimed that the recent "referendum" covered the entire region, including the city of Zaporizhia, which had a population of 750,000 before the war.
That would mean that the Kremlin would oblige the country to keep fighting to defend territory and make progress, even when on the battlefield on the defensive.
The Kremlin is only allowed to give details of which areas it claims to annex during the signing ceremony. A state budget released on Thursday showed that Russia had earmarked 3.3 billion rubles ($56.3 million or £51.1 million) for rebuilding the regions. Damage in the city of Mariupol alone was estimated by its mayor at $14 billion.
The annexation will further reduce the chance of a negotiated solution to end the war. Russia amended its constitution in 2022 to ban the cession of territories that the country formally annexed.
It was originally seen as a way to prevent a future Russian leader from ceding Crimea, which was annexed in 2014. But the law would also ban Russia from ceding territories occupied since February or currently not under Kremlin control.
Ekaterina Schulman, a Russian political scientist, wrote that "after the annexation, the Russian Federation as we knew it will enter a new phase of its existence, having become a state with a delegitimized border, including fragments that not only not recognized de jure by a State or an international organization but not controlled de facto by its central administration".