Editor's Note: This story is part of the Southwest Michigan Second Wave In the Ground Battle Creek series.
A program offered by the Battle Creek Music Center is not yet in its infancy, but its participants are.
As has been the case for more than 10 years, this year the music center offers its Music First courses for children aged 0 to 5 years. Susan Balbaugh, executive director of the music center, says these classes are part of several existing and newer programs designed to build a base for future patrons and musicians.
"The music center is not about making beautiful music, it's about using music as a tool to do good for individuals and communities," she says. "At the root is music at the infant level."
Balbaugh, like leaders of arts organizations in the United States, knows that the survival of the organization she leads depends on its ability to attract and engage younger audiences stay relevant.
In addition to the Music First program, the music center also offers a variety of choral singing opportunities, including the Sojourner Truth Choir, music classes for adults and children, and conducts the Battle Creek Symphony Orchestra, conducted by Maestra Anne Harrigan.
"We have to figure out how to stay relevant, and that's the lens we look through in everything we do," says Balbaugh. "If we just want to sit on the sidelines and say it's all about Mozart and Brahms, that's not enough."
The Music First program, she says, "really took off" when Teri Noaeill, Artistic Director of the Community Music School, began leading the program based on Gordon Music Learning Theory six years ago.
"When babies are born, they have the highest musical ability they will ever have, much like we know about language learning," says Noaeill. "Early exposure to music prepares children for later musical development. Music First is designed for an experience for both adults and children. This can be a parent, grandparent, legal guardian or any adult designated to attend the courses."
During each class, children have the opportunity to sing, sing, move, dance, listen and play simple instruments. All of this "helps them lay a solid foundation for later music," says Noaeill.
Brianna Eldridge says her son Zander started taking Music First classes when he was 8 weeks old.
"He might not have been able to sing along or dance to the music, but it was clear that he was engaging in his own way, trying to lip-form the sounds he heard and later." tried to adjust the pitch of the music. It was really incredible to see such a young kid doing it," Eldridge said in a press release.
Brianna Eldridge's son, Zander, began attending Music First classes at the age of 8 weeks.According to Noaeill, the program is available to all children, including those with special needs. She says parents of children are encouraged to use the Music First program as another form of support.
To ensure that finances are not a barrier to a child's participation, financial assistance is available in addition to the funds made available through the Bcreative programme offered by the Miller Foundation, which pays 50% of the cost for eligible children ages 3 and older.
"One of my personal agenda items is to ensure that children can be involved in music without the financial aspects of their families interfering with it," says Balbaugh. "As a child I wanted to play the flute, but my family was destitute and I never could. I don't ever want that to happen to any other kid."
The music center, she says, is able to offer financial support because it is financially healthy thanks to the COVID relief funds it has received over the past two years and contributions from individual donors and the Battle Creek Community Foundation, the Miller. and Binda Foundations.
Asher Alexander, 2, shows off his drumming skills while coach Teri Noaeill encourages a younger sibling during a Music First session at the Music Center."They believed in us and stopped us and helped us get through COVID," says Balbaugh.
The music center is also funded by the Michigan Arts and Culture Council (MACC) and the National Endowment for the Arts.
The sounds of success
As COVID fears subsided, the music center reopened everything in June and classes "just exploded," says Balbaugh. Five new faculty members were hired to teach piano, violin, voice instruction and Music First. "We can't hire fast enough to meet demand."
Much of that demand is being driven by a lack of opportunities for music lessons in schools, the more traditional channels for such learning, says Balbaugh. Less music education in schools has "both harmed and helped us," she adds.
Parents and guardians who understand the value of music will enroll their children in the music center to fill this gap.
Malik Alexander, 4, and Teri Noaeill, teacher, play together during a Music First session at the Music Center."A lot of what we used to see was students who wanted the extra teaching and learning. You might be in a band and want to take private lessons to take your playing to the next level. The majority of schools don't have the programs that would go into our program," says Balbaugh.
"If the school no longer offers an orchestra, we have lost that as a feeder program. If there were a young person who was a good cello player but wanted to get really good, they would complement what they were taught in school with one-on-one sessions here. This was a feeder program for us. A lot of them are gone."
Around 550 young people are currently attending classes at the music center. But tuition is also available to adults and accounts for 25 percent of enrolled students.
To increase its visibility, the Music Center is delving deeper into outreach, a focus area for Balbaugh and Harrigan.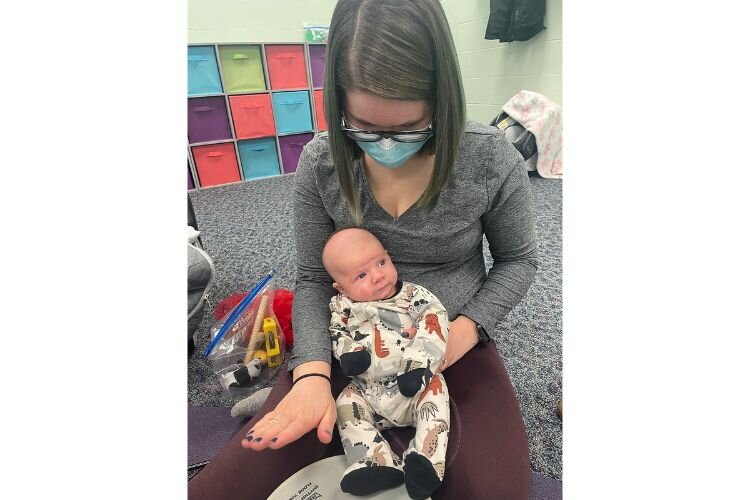 The Music First program encourages parents to bring young children to the program. Those efforts include presence at community events like the upcoming Bruin Boo on October 26 from 6:30 p.m. to 8 p.m. on the Kellogg Community College campus. Billed as a family-friendly event, Balbaugh says the music center faculty will be showing what they're doing, sharing information and answering questions.
There are also plans to bring music by musicians from the music center to the streets for a fee or for free. This can include anything from a string quartet or five piece band providing background music at a corporate or non-profit event to performing at a private event. In addition to creating greater awareness and appreciation for music, Balbaugh says opportunities like this "remove the stigma that music is too sophisticated or inaccessible."
To further amplify this, Balbaugh also plans to speak directly with local youth about the types of programs and classes they would like to attend. In the past, faculty members have told her what they see as a need or identify specific programs or classes held at other schools that could be a good fit for the music center.
"I want to speak directly to the kids to say, 'What do you want?' Kids these days aren't going to respond to a survey about their music," she says. "I want to know what they want, not what someone else thinks they want."
Susan Balbaugh is the General Manager of the Music Center.She recently spoke to a group of youth from the United Methodist Church in Washington Heights who had attended a summer program focused on financial education in the church. She says they explored ideas for a hip-hop and pop choir and a percussion ensemble, among other things. She has also begun regular conversations with Pastor Monique French, who leads the church, about working together next summer.
She is also exploring collaborations that will give youth the opportunity to work together through studio production courses involving vocals, songwriting and video that will be compiled into a digital format that could be marketed and sold to a larger audience.
"We have an immense pool of talent in this community when it comes to art, particularly musical talent. It's huge for a community of this size, and made up mostly of workers. When people come to the symphony from outside, they are shocked."
She credits Harrigan of the symphony with continually raising the bar for herself and the musicians. "We're seeing a lot of young musicians coming into the industry, and at a higher level than they did 30 years ago," says Balbaugh.
Maintaining this upward trend requires a continuous and conscious focus on the next generations.
"If you don't make the arts available to the kids, you're going to have kids who aren't as open-minded or literate. We know that children have been involved with music for at least four years test higher in language arts and mathematics," says Balbaugh. "But these kids aren't doing it just for that reason. They get involved in art because they want to create their very own atmosphere. It is up to the arts organizations to make sure they are able to do that."