I started my foundation – Music for Life – for two main reasons that could be considered one and the same.
First, I believe that as a Christian it is of the utmost importance to give back to the community through the gifts that God has given us. Second, I wanted to continue Yehudi Menuhin's legacy in terms of spreading classical music to all sectors of society, especially in my home country.
I came to the Yehudi Menuhin School (YMS) from the Dominican Republic when I was almost 13 years old. In addition to the top-class concerts at the school, we also gave concerts in hospices and schools as well as short coaching sessions for schoolchildren who were interested in music, which Menuhin himself often did before his death. That inspired me deeply.
I realized the true power of selfless music making; this power to elevate humanity above their individual circumstances, regardless of their socioeconomic background or state of health. It was then, at the age of 14, that I began to understand that music is indeed made for everyone and not just for the few who could afford a concert ticket. I knew firsthand what it meant to receive the help I needed to develop my potential in classical music, having won scholarships myself to attend the YMS, the Guildhall School of Music and Drama and the Royal College of Music had received.
My personal experiences have taught me that music is a human right and that we should all be able to exercise it. This belief planted a seed that blossomed into the Music for Life Foundation in the Dominican Republic. At our foundation, all master classes in the annual Musical Clinic program are offered free of charge, as is participation in the Festival Infantile and Juvenilewhere we hosted over 60 children in two editions.
These programs started in 2018 and 2015 respectively. When I started violin lessons in the Dominican Republic we only had a few workshops supervised by El Sistema in Venezuela and a few music schools. I was five years old when I attended one of the Venezuelan program's orchestral workshops.
Whenever I returned to the Dominican Republic during my full-time studies in the UK, I gave occasional free private lessons, but it was not until 2010 that my mother and I decided to set up the Foundation to reinforce our specific vision and to outline its present and future. Our mission as a foundation is the democratization of classical music through the aforementioned educational programs for music students, but also through visits that include short concerts and motivational talks at other foundations, hospices, orphanages, non-violent shelters, hospitals, schools and correctional facilities.
I make similar visits to other countries around the world where I perform. These include the Mehli Mehta Music Foundation in India, the Gaslini Pedriatic Hospital in Italy, the Royal Hospital for Neuro-Disability in London, the Salvation Army Hospice in Cuba, the Sara Kubitscheck Hospital in Brazil, a non-violent shelter for children in Nicaragua, the Funave Center for Children with Neurological Disabilities in Spain and the Cardio Infant hospital in Colombia. These include orphanages, hospices, correctional facilities, foundations and schools in the Dominican Republic.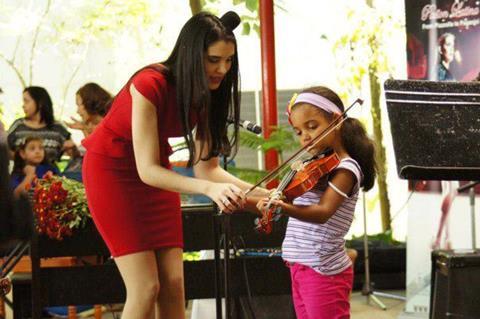 A recent visit stands out for me where I visited another foundation and performed on a priceless Stradivari violin (thanks to Florian Leonhard Fine Violins) for many children and told them the fantastic story behind the name. Some of these children are currently living in very difficult households, but I am honored that I was able to give them an insight into the possibilities of classical music.
We have also had children in our music programs studying abroad and we are very proud to have been part of their early musical life in the Dominican Republic. Most of the children have been taking part in the Musical Clinic program every year since 2018, even virtually in 2020 and 2021 due to the pandemic.
We hope that this music foundation in the Dominican Republic will have a long-term impact, not only within the music student community, but also in society as a whole. We aim to bring life-changing experiences through music to the sick, orphans, elderly, poor and incarcerated. As we educate the local community about classical music, we illustrate why we need it as a society to live life to the fullest these days. That's why we call ourselves the Music for Life Foundation.